Damage to the visor and ramp attachment devices is covered briefly here for completeness of the description and is covered in further detail in 8.6.
8.5.1 General condition of the wreck
No external damage other than that in the visor and forward ramp area was observed on the wreck. Window panels were, however, pushed out in several places on the accommodation decks and doors in the aft bulkhead on decks 5 and 7 were missing. A door in the front bulkhead on deck 5 was open.
8.5.2 External hull damage
Diving and ROV inspections of the bow area of the wreck revealed certain damage to the installations in the bow area which are summarised in Figure 8.1.
Figure 8.1 Summary of damage in the bow area with reference to other figures.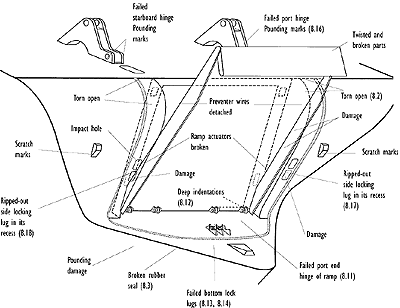 Click image for close-up
The deck hinge fittings on deck were undamaged except for pounding marks on their forward faces. The visor parking support was undamaged.


The deck was torn open from the visor operating actuator openings and forward. The openings continued for some length down the front bulkhead. The deck damage was extensive with uneven fracture surfaces whereas the opening in the front bulkhead on the port side had rather clean-cut contours (Figure 8.2).
Figure 8.2 Damaged deck and front bulkhead in front of the opening for the visor operating actuator on the port side.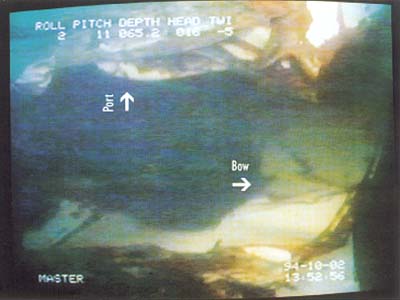 The side locking lugs remained in their recesses, engaged on the locking bolts.


The bottom lock bolt housing was torn away as well as the support bushing.


The mounting bracket for the locking bolt position sensors appeared to be undamaged. The sensors were not on the mounting bracket but the magnet was still attached to the bracket on the locking bolt.


Various damage to the front bulkhead was found and in particular to its lower part.


There was various damage to the rubber seals and their supporting flat bars on the front bulkhead and, extensively, on the forepeak deck (Figure 8.3).
Figure 8.3 Broken visor rubber seal on the starboard side of the forepeak deck.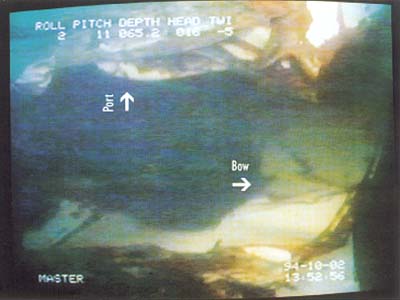 Pounding damage was recorded to the shell plating edges around the forepeak deck and to the ice-breaking stem on the bulbous bow. Various scratch marks were noted on the bulbous bow.
Continues...